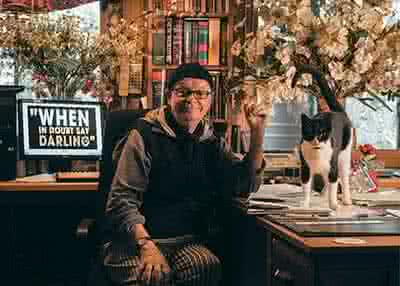 Event Information
This event is part of
Oude Libertas Summer Season Festival 2018/19
add to planner
festival planner
Event Type: On Stage, Comedy
`When in doubt say darling` - a new entertainment with Pieter-Dirk Uys and other darlings.

After a sold-out season at Pieter Toerien`s Montecasino Studio and the Fugard Theatre in Cape Town, the newest Pieter-Dirk Uys show will be presented 1 FEB 2019 at the Oude Libertas Amphitheatre.

Sometimes politics repeats itself, not only taking history and turning it into farce, but taking farce and turning into the fake news which is now called entertainment. Pieter-Dirk Uys is sorting out 40 years of distress, disguise and disgust: from apartheid to tripartite, from amandla to Nkandla - and happily back to amandla. In the boxes are wigs, glasses, wagging fingers, toyi-toyis, red berets, trump cards of madness, icons and aikonas, from Bezuidenhouts, Raubenheimers and Ramaphosas to Altzheimers. See PW Botha impersonate Jacob Zuma! Witness Dr Piet Koornhof solve the Brexit stand-off! Celebrate the appearances of Angela Merkel, Theresa May, Nowell Fine and Evita Bezuidenhout!

At a time when a casual greeting or embrace can be seen as racist or harassment, the advice is simple: when in doubt say darling. If you can`t remember their names, just say darling. If you get lost along the road to somewhere, simply ask for Darling. He did it, and now Pieter-Dirk Uys also lives in Darling. Join him and many darlings on an exciting walk through this new minefield of hashtags and hate speech to the edge of the next cliff of crisis, when the end of the world seems nigh. It also used to be called a sunset, but here`s a secret: the sun will also rise tomorrow, darling.
Additional Info

Map

Widget
GPS Coordinates
-33.980974,18.771418
Refunds And Cancellations
You may cancel any booking submitted to us for tickets that have not yet been issued to you at any t ...

Exchanges And Upgrades
Exchanges and upgrades allowed for this event. No downgrades
Duration
1 hour 10 minutes, no interval
Address
Oude Libertas Amphitheatre, Corner of Adam Tas Road and Oude Libertas Street, Stellenbosch.
Telephone 021 - 809 7473 or 809 7380
Visit www.oudelibertas.co.za for more information
Allowed
Picnic baskets, blankets, cushions or folding chairs on lawn.
Box Office Ticket Sales
Open 16h00 for sales and collections.
Disabled Facilities
Venue has a ramp entrance and special toilet facilities for disabled patrons.Please contact Oude Lib ...

Important Venue Information
In case of rain, an alternative venue may be arranged or the performance cancelled. To enquire about the weather telephone (021) 809 7473 after 16h00 on the day of the performance.
Parking
Secure free parking available around venue.
Please Note
For Wheelchair and Specific Seating please call the venue box office on 021 809 7473 or 021 809 7380
Prohibited
Drugs, weapons, own alcohol, cameras and recording equipment.
Refreshments And Meals
Cash bar and refreshments available at venue.

Patrons can take along their own picnic baskets to the Twilight Concerts.
Ticket Collection
Box office for ticket sales and collections opens 16h00.However to avoid queues, tickets may be coll ...