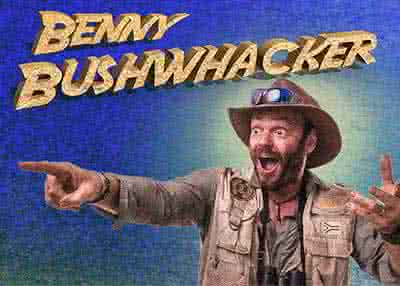 Event information
Event Type: On Stage, Comedy
The Republic of South Africa proudly welcomes home, BENNY BUSHWHACKER (aka BEN VOSS), the world`s funniest conservationist, and the only man to have walked the length of Africa barefoot. The legend returns to share what it takes to survive the African bush? and for the African bush to survive.

The genial South African, who recently trended worldwide for banging heads with swashbuckling British survivalist, Bear Grylls, will be touring South Africa`s theatres and festivals with a hilarious yet sobering look at the collision between man and environment. For somebody who has spent more time away from the hustle and bustle of everyday life than a hibernating Arctic wood frog, BENNY BUSHWHACKER brings untainted humanity and delicious humour to his performance that will have you laughing out loud and wondering why, when it comes to the bush, the most uncommon human trait, is common sense. Book your seats soon for this wonderful look at life on the wild side, because, like the rhinos of Africa, you never know if you will get the chance to see it again.
This event is taking place at more than one venue. Please select the venue you would like to book for.
Select Venue
Venues and performances
George Arts Theatre, George - Western Cape
Studio Theatre At Montecasino, Johannesburg And Reef - Gauteng
Savoy Theatre, Perridgevale, Port Elizabeth - Eastern Cape
The Playhouse, Somerset West, Somerset West - Western Cape