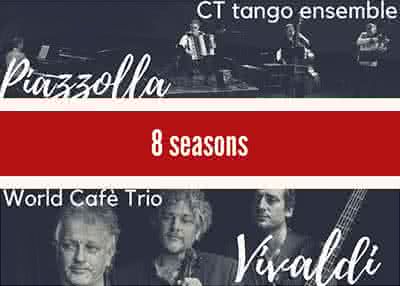 Event Information
This event is part of
Oude Libertas Summer Season Festival 2018/19
add to planner
festival planner
Event Type: On Stage, Family
The concept of `The Eight Seasons` has been done many times all over the world as well as a few times in South Africa.

It is a compilation of Antonio Vivaldi`s Four Seasons Concertos (Le Quattro Stagioni) for Violin & String Orchestra, together with Astor Piazzolla`s Four Seasons of Buenos Aires (Cuatro Estaciones Porte?as).

All of those would be normally played with a Solo Violin & String orchestra which is the original intention of Vivaldi but not of Piazzolla. Piazzolla`s original was for his Tango Quinteto.

In this production we`d have 2 well known celebrated bands from Cape Town sharing the stage and giving us `The Eight Seasons`.

In this case we would have the original Piazzolla`s Four Seasons version for a Tango Quartet, combined with an arrangement of Vivaldi`s Four Seasons for a Trio of Violin, Accordion and Bass Guitar.

CT Tango Ensemble

Stanislav Angelov - Accordion

Petrus de Beer - Violin

Albert Combrink - Piano
Charles Lazar - Double Bass


World Cafe Trio

Petruse de Beer - Violin

Stanislav Angelov - Accordion

Schalk Joubert - Bass Guitar


Vivaldi und Piazzolla haben unendliche Schatzkiste von Kompositionen . Stanislav mit seinem World Cafe Trio und Cape Town Ensemble verzaubern die 4 Jahreszeiten von Vivaldi und die 4 Jahreszeiten von Piazzollz in eine Wunderwelt. Ihnen gelingen Kompositionen von besonderer Schonheit und unwechselbarem Stil , nur mit Klavier, Geige , Accordion und Bass.
Additional Info

Map

Widget
GPS Coordinates
-33.980974,18.771418
Refunds And Cancellations
You may cancel any booking submitted to us for tickets that have not yet been issued to you at any t ...

Exchanges And Upgrades
Exchanges and upgrades allowed for this event. No downgrades
Duration
1 hour 30 minute, no interval
Price
Middle Block: R250.00

Side Blocks: R220.00
Artists
Stanislav Angelov - Accordion

Petrus de Beer - Violin

Albert Combrink - Piano

Charles Lazar - Double Bass

Schalk Joubert - Bass Guitar
Address
Oude Libertas Amphitheatre, Corner of Adam Tas Road and Oude Libertas Street, Stellenbosch.
Telephone 021 - 809 7473 or 809 7380
Visit www.oudelibertas.co.za for more information
Allowed
Picnic baskets, blankets, cushions or folding chairs on lawn.
Box Office Ticket Sales
Open 16h00 for sales and collections.
Disabled Facilities
Venue has a ramp entrance and special toilet facilities for disabled patrons.Please contact Oude Lib ...

Important Venue Information
In case of rain, an alternative venue may be arranged or the performance cancelled. To enquire about the weather telephone (021) 809 7473 after 16h00 on the day of the performance.
Parking
Secure free parking available around venue.
Please Note
For Wheelchair and Specific Seating please call the venue box office on 021 809 7473 or 021 809 7380
Prohibited
Drugs, weapons, own alcohol, cameras and recording equipment.
Refreshments And Meals
Cash bar and refreshments available at venue.

Patrons can take along their own picnic baskets to the Twilight Concerts.
Ticket Collection
Box office for ticket sales and collections opens 16h00.However to avoid queues, tickets may be coll ...